Clopin is packing his gypsy wagon and getting ready to move! He hopes to cease his wanderings and have his web page up and running by this week. Please be patient while he is in the process of transferring all his files. His page is huge and 14th century gypsies aren't all that familiar with the complexities of FTP procedure. He knows that many of the links are not yet working but he will attend to this task as soon as possible.
La Page de !!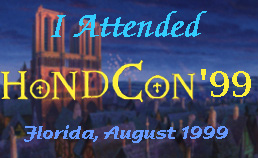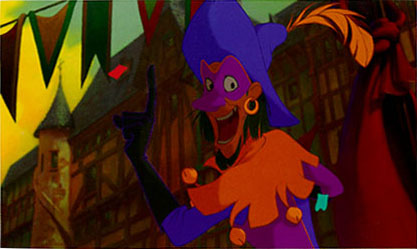 ---
Don't know if this place is stagnant? Check and see what was last modified:
---
Welcome to Clopin's Page! I am Clopin, King of the Gypsies, starring in Disney's 34th animated feature, The Hunchback of Notre Dame. You can easily spot me: I wear a multi-colored costume and am often seen dancing, singing, or just plain having fun! Clopin hopes that you will enjoy your visit here-- for he shall guide you through this wonderful, wonderful place.
Clopin realizes that he is really the star of the show. His voice, provided by the wonderful Paul Kandel, brightens up the whole movie. His wardrobe is large and he is blessed with good taste. His acrobatic skills far surpass Quasimodo's. Plus, I really know how to have fun-- especially at the Feast of Fools! In addition to being such a festive character, I am an excellent story teller and puppeteer. I also lead my fellow gypsies in the secret Court of Miracles. This is where Clopin and his people can hide from Frollo's persecution. (Shhh... you must not tell...)
One might say that Clopin has dual personalities. His puppet seems to have a mind of its own. [Hello, there!] And it likes to say "dang!" a lot! [Dang!] Clopin's puppet likes to argue somewhat with Clopin; usually it results in Clopin banging the puppet on the head or smothering it with a hat. [Awww....] Clopin can not deny that the puppet is a part of him though, and the puppet definitely steals some scenes!! [hee hee...]


---
Clopin's Pictures of an Exhibition:
Beginning the tale...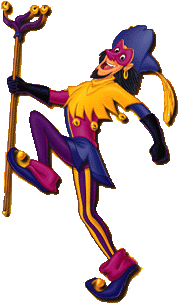 Hey now!
The tale of the mysterious bellringer...
She Ran...
Now here is a riddle...
FOOLS!!!!!
Enjoying myself...
I'm helping Quasimodo loosen up!
I love to joke with Frollo!
Dance La Esmeralda...
Daaaaaaaa...
Make a Face!
We Asked for the Ugliest... and here it is!
I'm crowning Quasi king of Topsy Turvy Day!
Here is an original concept drawing of me.
Here is a picture from a Disney Hunchback Story Book.
More Clopin pics on the Secret Page and Below!!

An excellent collection of Clopin Pictures from Opal Romani's web site.

More really really cool Clopin pics! Enjoy them!
More Clopin shots from the movie! Priceless pics!

---
---
---
---
Come read all my lines in the script!!
Forgot what I said, eh? Well, no matter. Refresh yourself with all the lines I say! (Not to mention everyone else's in the movie.....)
---
Here is a list of all Clopin merchandise. This is to help serious Clopin collectors know what there is to find. Page has been contributed by CSG #5. If you know of any other Clopin goods and their retail prices, email me and let me know!! Email to:
This is the place to go if you have merchandise you want to trade.
---
Is Victor Hugo's Clopin different than I? Excerpts from Hugo's Hunchback of Notre Dame will show the difference!
---
Want to know what CSG stands for? Join the large gathering of faithful followers of this favorite Gypsy King!! Guys and gals--come and join the club! (Site is maintained by Larissa MacKenzie)
---
Want more membership to Clopin fan clubs? Here is the place to do it! Fan Club includes newsgroups, fun clubs, lists, and more! (Site is maintained by Shiri)
---
Clopin Fanfiction are stories and series involving Clopin, CSGs, and CT's. Come read about all the missing tales of Clopin. YOU TOO can send in some of your own fan-fiction to this site as well! (Site is maintained by Sue)
---
The Clopin Quiz!
Take it if you dare! 20 questions to ponder over... more on the way!
---
Try Clopin's Second Quiz!!
More Clopin questions to answer! Test yourself some more on your Clopin knowledge!
---
Clopin Calender!
Birthdays, special events, and past movie premiere dates! If you have a birthday to add, please wait until at least a month before the event to tell Shiri

---
The Games Page!
If you have any ideas, email Irene

---
---
Creative Work from Clopin Fans!
Turn in things and have them published on this page! Anything can go here: parodies, drawings, reasons why Clopin is so awesome, etc. Send your works to: Irene

Hope to see your work!!
NOTE: All CSG Fan Fic should head to the Clopin Fan-Fic Page above.

---
HoND Forums
If you want a place to talk to other HoND fans, try out some of these forums. If you have a forum you would like to have listed here write to: Irene
The forum for Clopin's Page!
The forum for Clopin's Gypsy Band!
The Animated Lust Forum Exactly what the title says - a place to discuss all the animated characters you love.
---
Other Cool Clopin Links!!
The Lair of the Wicked Twins. Y'Dnew's and Virginie's page about Clopin and Quasi. Fan fic, artwork, pictures, and more. Home of the animated Clopin gif.
Nat's Clopin O Rama Page Great wav files!! Plus a bonus Tom Hulce Page!!
The HOND MUCK. This new page is maintained by Drew Palmer.
Norm's Clopin Page Come see how CT#1 got hooked
Allen Mullen's ASCII HoND pictures Naturally, Clopin is the first one!
Irene's page on the WDW/MGM Clopin and Hunchback Show
The wonderful page about the Disneyland Festival of Fools
Opal's Page Clopin Fan Fiction and lots more. A great new page.
Audrey's and Mary's Clopin page. Fan fiction, photos from the Florida show and more.. Another great new page.
Mirage's Clopin Worship PageGreat site with pictures you may not have seen before. Three cheers for her Snappy!
Shiri's Storyteller's Corner More great Clopin Fanfiction!! And home of the CGB Newsgroup!!
Foreign Clopin Songs Or soon to include Clopin songs!
Lilith's Feastival of Fools Where all roads lead to Clopin
Julie's Feast of Fools Page Another CSG shares her joy honoring yours truly!
Clopin's Puppet Wagon Maintained by Laurie and filled with Clopin, Quasimodo, and more HoND goodies!
Zengara's Hunchback Page!! Hunchback/Hercules Page from a fan in Mexico!
ClopinKing's Page!! (Clopin must look into seeing who these other "Clopins" are...)
Irea's Page!!
Mr Jester's Page!! (Did someone say "jester"?!?!)
The Frollo Zone!This is a very comprehensive page all about Frollo - an excellent resource for any HoND fan. Maintained by Judge C.
Ms. Frollo's Page!This is a great page all about Frollo, including pictures of the live Frollo at Disneyland. It's not Clopin but it's a good HoND site.
The Animated Lust Web Page!This is a great that pays tribute to many animated characters. You can even vote for your favorite - so go visit and cast a vote for Clopin!
Many more links on the Hidden Link Page! Find it! (Details Below)
---
---
Here is where you can WIN really cool Clopin stuff! The contests are free and just for fun. Check it out and you might just win!
---
---
Find the secret link!
Now here is a riddle, to guess if you can.... Ahh, any adventurers out there? Come and search the pages for an extra link! Clopin has hid it but will give you five hints: 1)It is a definite link that you can access to (point and click). 2)It is somewhere on one of these Clopin pages (those maintained by Rex Huang). 3)Five or three is where it'll be! 4)It is NOT on a tiny portion of a picture.... but it could be a picture! 5)I CON't tell you anymore!
Clopin can help the extra-stumped if you email the maintainer....
---
Clopin Challenge!! Secret Link II!
Due to Clopin's popularity of his now not so secret 1st link, Clopin has decided to STUMP all of you with a much harder Second Secret Link! Clopin wishes you luck in finding this. The rules of this link: Click on something. That's it. Good luck. Links can be deceiving.
---
Hidden Link #3
Clopin is at it once again. He now has a third link hidden somewhere on these pages. Hint - you have to find the first link if you want to find the third!!!! Hidden link #2 is not needed to find #3. Appearances are still deceiving. Good luck. What!!! Impossible you say!!!! Then check here to see who has already found his most secret places. Clopin's Elite is where to find out who of Clopin's followers has found hidden links #2 and #3.
---
MORE TO COME!!!
A note: As you can see, this webpage is far from finished. But be sure to come back soon-- Clopin still has more pictures to show, sounds, and lots of additions and updates. Stay tuned!! Same URL! Same Clopin place! Same Clopin time!
---
I must give thanks to the people that did such a marvelous job animating me. These are the people who made my antics possible:

Supervising Animator:Mike Surrey (worked on Timon, The Lion King)
Animator: Danny Galieote
Cleanup Animators:
Lead Key: Margie Daniels
Assistants: Pierre Girault
              Leticia Lichtwardt
Breakdown: Clay Kaytis
Inbetween: Cathie Karas Wilke








Disclaimer: This is a fan page of Clopin. Clopin is a character created by Victor Hugo, and is copyright of The Hunchback of Notre Dame. All the Clopin images, song lyrics, and sounds included in this page are the properties of The Walt Disney Company and they are used without permission.
As of February 4,1998 this page is maintained by Irene

This page is maintained/created by Rex Huang. Page design in copyright and copy; 1996 by Rex Huang. The maintainer of this page is neither affiliated with nor endorsed by the Walt Disney Company. It is not the intention of the maintainer to extract profit from this page or to infringe upon its copyright. Users of the world wide web are asked not to misuse this page.
Many thanks are in order for Elizabeth Bernado, Larissa MacKenzie, CSG #5, JN Kruger, CSG #4, Jason Knight, CSG#26, CHM #1, The Levy Family, Laurie LeBlanc, and Geocities for their plethora of images, info, and help!!
Special thanks to Shiri for the wonderful job she did as maintainer of La Page de Clopin from June 11, 1997 until February 4, 1998.
Come see the awards this page has received!
---
travelers have visited Clopin's page!! (Since July 15, 1996)

---

Questions? Comments? Like the page? Want to say this page completely reeks of mediocrity? Well, send to the below address:
Clopin's Page!! / Irene (for Rex Huang)


A Note about E-mail I've been getting lots of mail from all the wonderful fans of Clopin and I love the email! Thanks to all of you who take the time to write. Please be aware that I answer each letter personally and therefore it may be a few days or so before you hear from me. Thanks, and keep writing and sending your wonderful creative work.
Revised June 16, 1999