Cinderella's Royal 50th Anniversary Celebration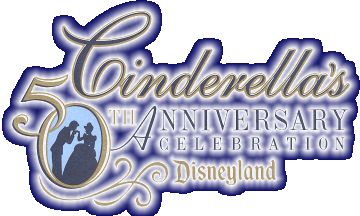 In honor of the 50th anniversary of Disney's classic animated version of Cinderella, a reunion of the film's original artists, animators and voices has been planned. The event will take place at the Disneyland Hotel on Saturday, February 12, 2000, from 7:00 p.m. until "the stroke of midnight."



The celebration is semi-formal (black tie optional), and will include dinner, dancing, and entertainment. The cost is $125 per person, though there are discounts available for Annual Passholders. Naturally, there will be a selection of merchandise specifically for the event, and that merchandise will only be available to attendees. Disneyland DelivEARS will take an unguaranteed wish list for anything remaining afterward; whether this list may be joined by nonattendees is a bit fuzzy. I can tell you that this will be a spectacular event, not to be missed by any serious Cinderella fan.



If you're going to be at the Hotel until midnight, why not simply stay there? A special room rate for event guests is available ($139/night) by calling (714) 956-6400 and asking for the Cinderella room rate. There are a limited number of rooms available at that rate, so don't wait!



A pair of caveats: the ticket to the event doesn't let you into Disneyland itself; Disneyland DelivEARS will suppy further information at (800) 362-4533 or dldelivears@disney.com starting January 3.

Return to The Scoop